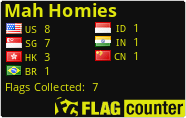 Deacy's moose knuckle
Howdy there! I'm Kelly, I'm from West Virginia, & I post mostly Queen, Doctor Who, & random-ass reblogs that I find funny. I will not automatically follow-back; I'll click your name & if I like what I see on your blog, I might follow. I'm not snooty or anything; I'm already following over 200 people & I'd like to cut my scrolling time waaaay down.

Some general rules: 1) I won't give anyone my phone number, address, last name, or current exact location unless you're my good IRL friend. 2) If you're going to send me anon hates to get your rocks off at my reaction, sorry but I don't play that game; I'll either kindly yet humorously reply to your hatred, or ignore it entirely. 3) If you hate LGBTs, minorities, or religious beliefs other than your own, you can unfollow me right now. If you post something against 1 of those groups, I will likely unfollow you. I'm not giving this warning due to a superiority complex; I just don't want you to be surprised if that happens.
▲